---
This is a course where you can learn how to draw cute tigers in 5 designs (8 patterns with different sizes).
You can take this course in video (Japanese) and text (Japanese).
It's not a zoom lesson.
You can draw in any color you like.
You can also draw the rabbit's eyes, nose, and mouth in your own.
Please enjoy drawing your original pastel art and letters on the background.
Let's draw a cute rabbit New Year's card.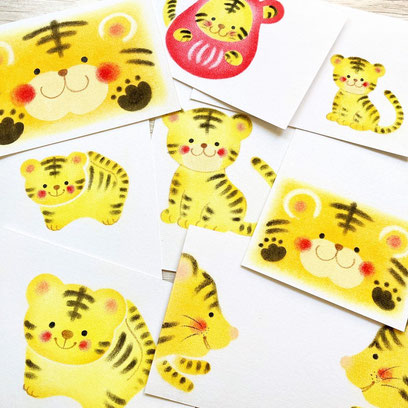 If you have taken the Pastel Wagara Asobi course, you can draw the pastel art that you learned in the course.
Please do not use the design of the Pastel Wagara Asobi course if you have not taken the course.
This is a work that combines the designs of Pastel Wagara Asobi Advanced Kawaii Wagara Course and Pastel Wagara Asobi Beautiful Wagara Course and Cute Rabbit Course.
Click here for details of the Pastel Wagara Asobi course.
Click here for details of the Pastel Wagara Asobi Advanced Course.
---
Nouvelle Curry Pastel
Cotton   
Cotton swabs
Coupy color pencil
Postcard(画仙紙) or drawing paper (It is OK to cut drawing paper into postcard size.)
Paper for paper stencils 
---
You can give your work as a gift.
You cannot sell any work that uses the course design.
You can display your work at an exhibition.
You can post your work on the Internet such as blogs, Facebook, Instagram.
Please write it as a cute tiger course.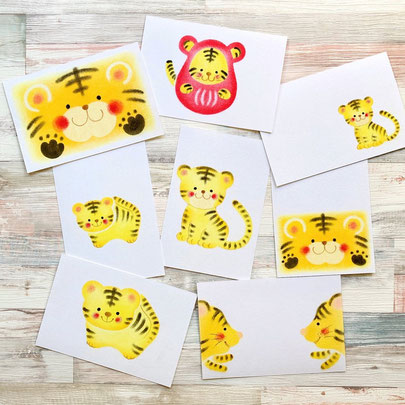 ---
You can hold face-to-face lessons, online lessons such as Zoom.
You can decide how many designs to teach your students.
You can also decide the course fee yourself.
When your student wants a certificate of completion, you must teach them all 5 designs.
You can open a lesson with a cute tiger course and your original pastel design.
At that time, please raise the course fee.
The certification fee is 2,000 Japanese yen.
You can pay with PayPal.
For the cute tiger course, your name will be registered as a completer.
No digital certificate will be issued.
---
When you hold a course, please distribute the lesson design pages to your students.
And please distribute the first and second pages with the rules of the course.
For online lessons, please mail paper stencils and textbooks to students' homes in advance.
It is forbidden to send text data over the Internet.
You cannot publish the drawing methods you learn in the course on Instagram Live, YouTube, etc.
You cannot sell only textbooks or paper stencils without giving students face-to-face and online lesson.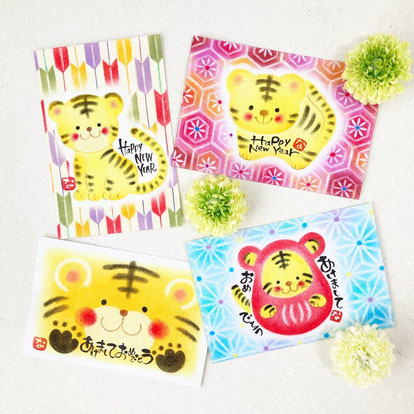 ---
● Course fee 8,800 Japanese Yen.
● Certification fee 2,000 Japanese yen. 
● Course period
1 month. Please draw 5 designs and show me a picture of your art works. If you have any questions, please ask me.
● Video and Text 
The video is in Japanese. There are 6 videos. About 30 minutes each.
Text is in Japanese. The text does not include pictures for each step.
● Paper stencil
The text shows how to make a paper stencil and a sample, so you can make it yourself.
● payment
You can pay with PayPal.
I will send you a PayPal invoice, so please pay.